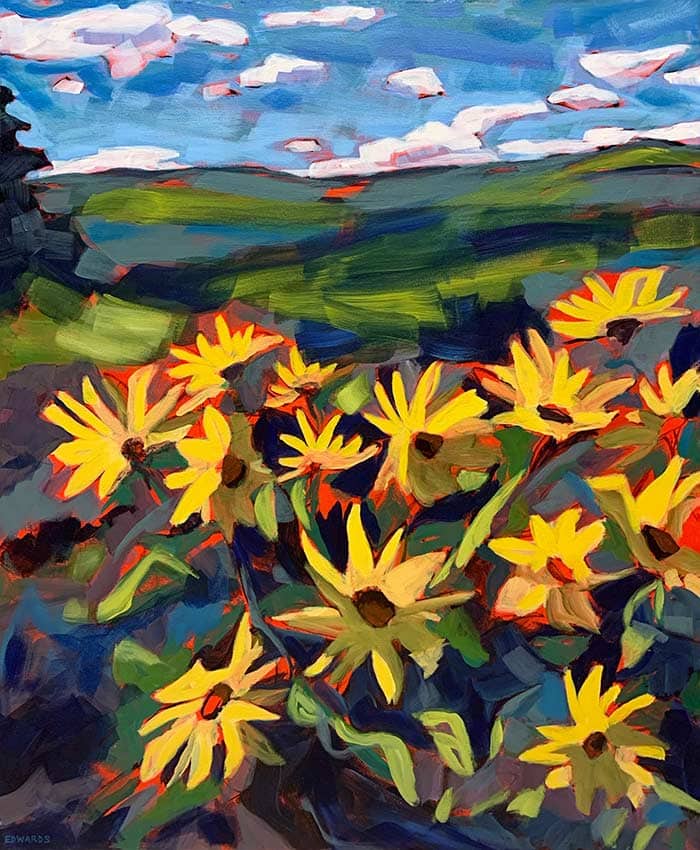 "Wild Sunflowers", acrylic on canvas, 20×28″, © Theresa Edwards
---
Art can bring joy, but it can also bring peace.
Let's be honest, don't we all enjoy feeling an overall sense of calm?
I often talk about the peace that landscapes bring. Florals can do the same, but the subject doesn't matter so much as the effect.
Think about the last time you viewed a painting that really captured your gaze.
Did you pause for a moment to fully absorb? How did you feel after? relaxed? happy? content? How did it affect your mood?
For myself, when I view art I'm inspired by or feel connected to, my body immediately relaxes. Even if a piece is exciting, I still feel a sense of inner peace.
Creating art that's joyful AND calming is at the heart of my practice.
(see last week's 'joyful' post)
There are endless benefits to each. To be able to impact others in ways like this feels like a genuine gift.
Next, I'll be talking about the third reason I create – one that's at the core of every arty thing I've made in my life.
Much peace.
~ Theresa
---
If you'd like to know more about the inner workings of an artist and her practice, subscribe to my weekly emails. You'll also get first access to new collections!