Above: Self-portrait (1938-39) by Emily Carr
Emily Carr (1871-1945) has been a personal inspiration of mine for over two decades. Her enduring will and strong spirit led the way to becoming one of Canada's most well-known artists.
From a young age, art and writing were two of Emily Carr's greatest loves.
Rebelling against traditional life, she left home as a teen to study art in San Francisco and later London and Paris. Art consumed her life – it was her world, her focus – seemingly her purpose.
After years away, she was unable to ignore the great pull back to the beloved Canadian wilderness in which she grew up. Emily returned to Victoria, her home off the west coast of BC where she began to interpret the dense forests and indigenous villages that she visited, through painting and drawing.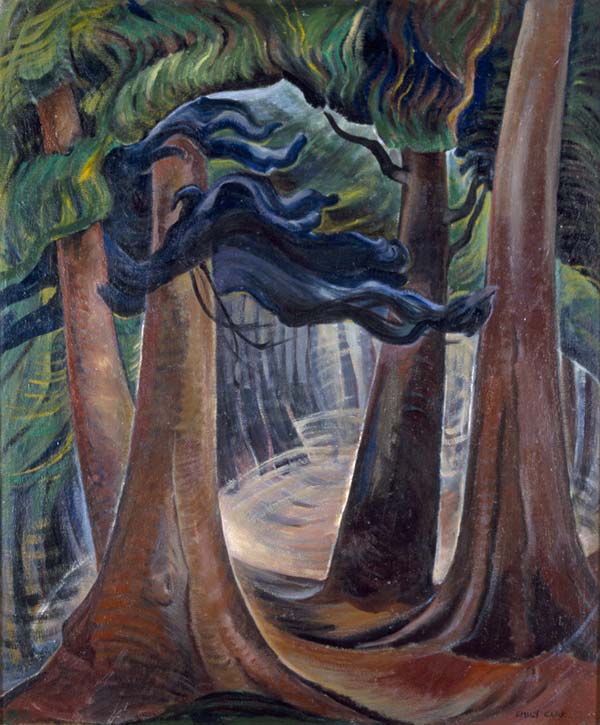 Emily's love of the west coast kept her isolated from artist peers and the art world that was centered around Ontario. Her relationships with artists such as Lawren Harris of the Group of Seven existed through letters and the rare visit. She had to 'go it alone' as an artist in her west coast woods.
But after visiting Toronto in 1927, meeting members of the Group of Seven who were at the forefront of Modernist painting, and having Lawren Harris say to her "you are one of us", Emily returned home to enter her most prolific period of creation. She was in her late 50's.
Her work became even more expressive – her colours bolder and brushstrokes full of movement and emotion.
She was fiercely individual in her appearance, her habits and her outlook on the world. This extended to a powerful vision for her art, and is recognized through the role she played in the first wave of modern art emerging from Canada's west coast.
She was eccentric – loved her animals (everything from birds to monkeys) but often found it difficult to be around people. Her studio was small – the chairs could be raised and lowered with ropes and pulleys – and could not accommodate visitors for long.
She was a gifted writer – completing 7 books in her lifetime, many garnering critical acclaim.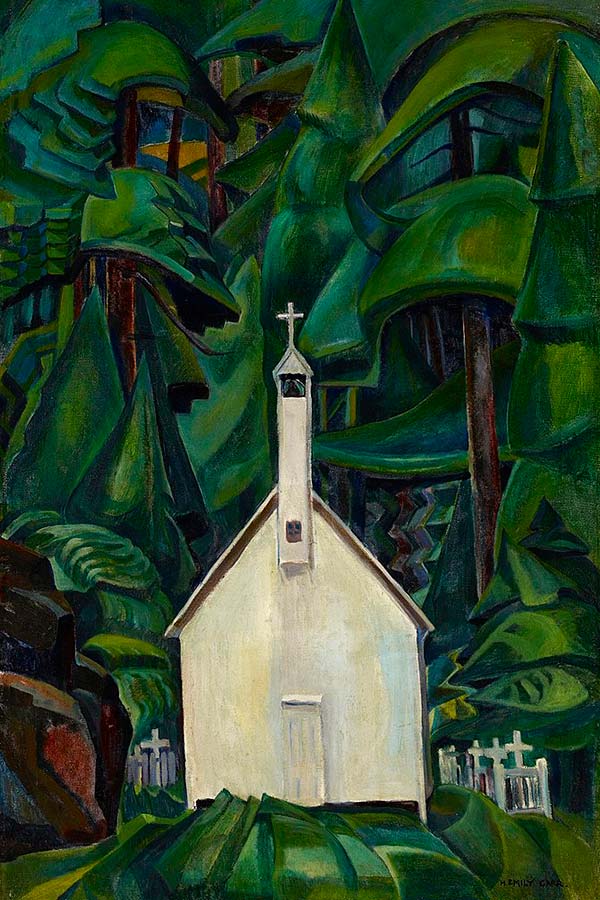 Paintings by Emily Carr, L-R – Indian Church (1929), Forest, British Columbia (1931-32)
---
I admire Emily as an independent woman artist.
She lived during a time when traditional roles were strongly encouraged, yet stayed true to her passions, enthusiastically rejecting society's expectations (you'll know what I mean if you read any of her books)
Her love and respect for the land resonates deeply with me. I feel surrounded by peace and wisdom in the British Columbia landscape… and it seems she did too.
Although I wasn't born in BC like Emily, I've felt a strong sense of home since my very first encounter with the province at age eleven. It's magnificence left me in awe.
Her most prolific stage of artmaking didn't happen until later in life. For me, my most prolific phase did not begin until my forties… perhaps after developing a greater spiritual connection to my art.
Reading Emily's stories and exploring her art gave me hope – from my early years feeling alone as an artist (way before socializing online), to now… still refreshing to read things from the mind of an artist as I feel myself nodding emphatically (and sometimes laughing too!)
To explore the wit and character of this intriguing soul, I encourage you to look up Emily Carr's books.
Had you heard of Emily before? Were you familiar with her art?
~ Theresa
---
A few of my paintings inspired by the BC landscape…