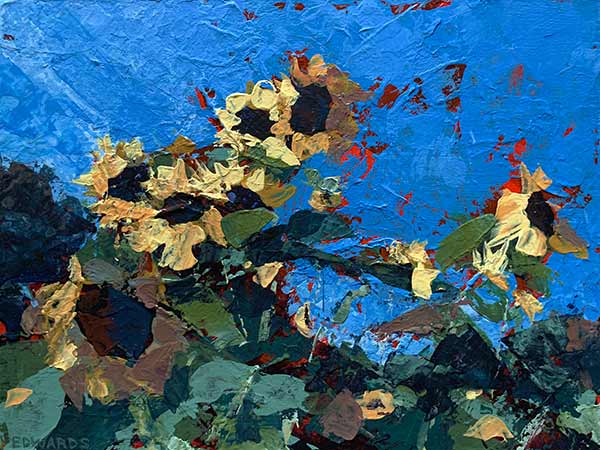 "Breeze Catchers" (SOLD), acrylic on cradled panel, 8×6" © Theresa Edwards
---
Had a situation in the studio last week…
Pink. was. not. my. friend.
Even as a somewhat newbie painter of pinks, I thought, "no big deal, I'll just break it down the same way I do every other colour". That's what I'm trained to do, after all.
But no. It didn't go that way. And it sure didn't work out. Holy moly (okay didn't say moly) those pinks put me through the wringer!
So after wrestling with them for a couple of days, I called it quits and started over. A layer of red over the surface and I was ready to go again.
What emerged was the sunflower painting above.
All artists paint over bad pieces at some time or another. That's just part of it.
I often wonder which famous paintings were a last-ditch attempt to salvage a canvas and cover up what they didn't like! Probably more than we'd expect.
Even the Mona Lisa was painted over (scroll to #9)… and some other famous paintings had stuff hidden underneath: https://brightside.me/creativity-art/9-famous-paintings-that-hide-a-very-different-picture
Ironically, some of my absolute best paintings have come from re-doing bad ones.
Ever experienced something similar?